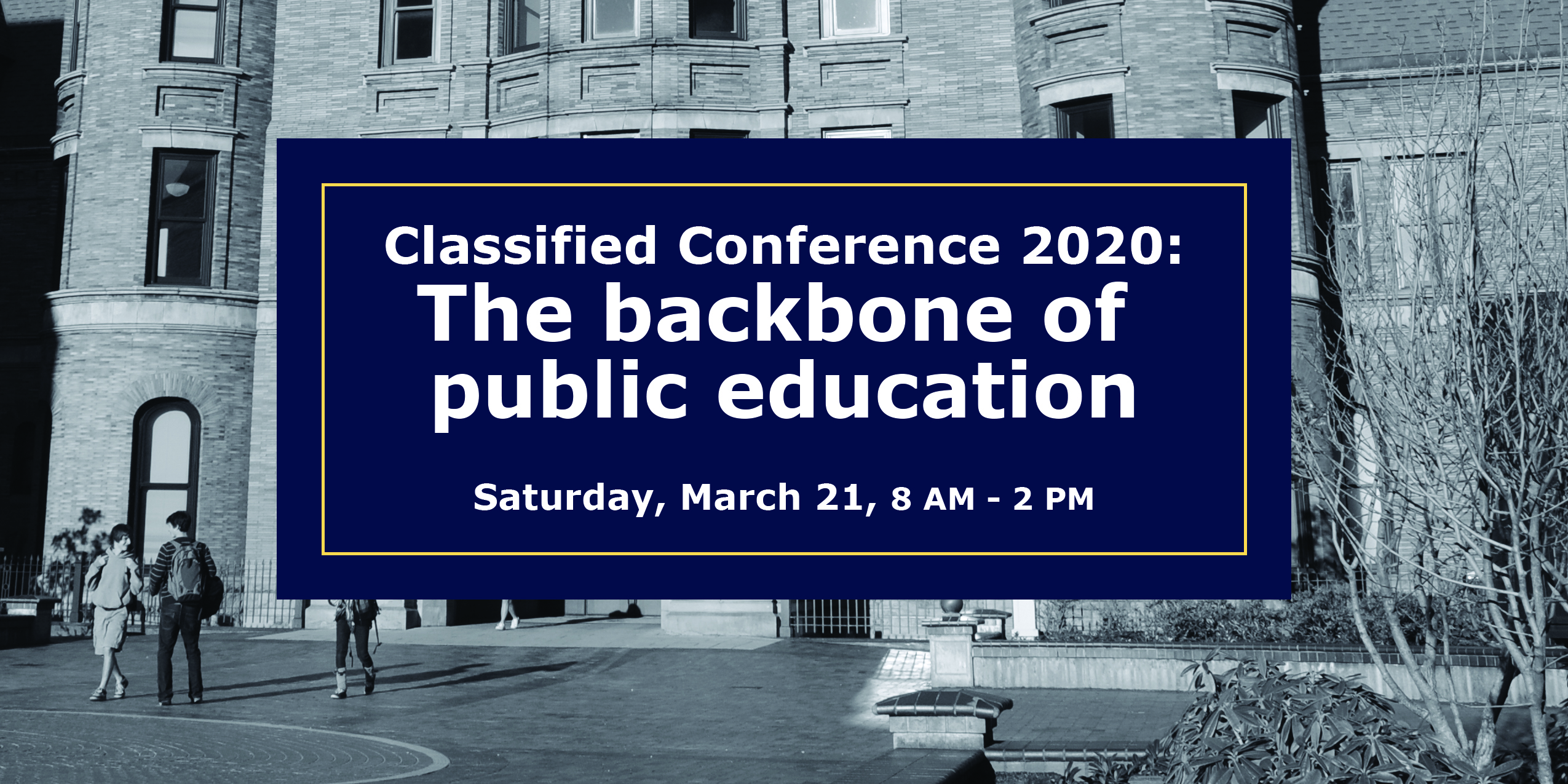 Every year the Classified Council of AFT Washington, made up of leadership from our Classified PreK-12 locals, host a professional development conference to celebrate the important work classified staff do to support public education in Washington state.
We are excited to present this year's conference which coincides with Washington State Classified Week 2020, celebrated this year during the week of March 15-21.
Join us in celebrating the hard work we do as the backbone of public education in Washington State.
Classified Conference 2020: The Backbone of Public Education
Saturday, March 21, 2020
8 AM – 2 PM
Giaudrone Middle School
4902 So. Alaska St., Tacoma
Workshop subjects include:
What can we do before the crisis? Behavioral challenges in the school environment
Chuck Lambert, PhD and Aaron Perzigian, PhD, Woodring College of Education, Western Washington University
Chuck Lambert and Aaron Perzigian will present culturally appropriate support strategies for children and youth exhibiting challenging behaviors. Drawing from evidence-based practices, we will describe less intrusive and more relational positive behavior supports designed to keep children and youth engaged, safe, and on-task.
Early Learning Education: Building a welcoming classroom
Deborah Sioux Cano-Lee, Program Director, Nisqually Tribe Head Start
Description to come
The role of nutrition in education successes
Presenter TBD
Description to come
Safety at work: Creating a culture of safety from the bottom up
Jay Herzmark, Industrial Hygienist
Do you feel safe at work? What can we do as frontline staff to make sure that we have a safe working environment? How can we create a culture of safety at works? This workshop will cover the roles OSHA and L&I play in creating a safe work environment and how we can use the safety committees in our Districts to deal with our safety concerns.
Methods for Educational Instructional Support
Nancy Grimes
This course is for TPS Paras and will identify the basic instructional methods to assist classroom teachers, explore diverse learning styles. This covers 4-hours required towards the para Fundamental Course of Study. This workshop is only open for Tacoma Federation of Paraeducator members required to complete certification.
Professional development credits may be available. Not all workshops qualify.
Presenter Biographies
Deborah Sioux Cano-Lee
Deborah Sioux Cano-Lee has worked for the Nisqually Tribe for 10 years and is currently the Program Director for their Head Start program. She's served on numerous committees as a strong advocate of children and youth rights, including the Equity and Education Coalition, World Forum Foundation for the United States, Washington State Human Rights Commission, and Seattle Civil Rights Commission. She is co-founder and currently Board President of the Washington Indian Civil Rights Commission.
Nancy Grimes
Nancy has more than 35 years of experience in staff training, teaching, and administration. 30 years of experience as an educational consultant/staff trainer in the areas of classroom and behavior management, learning disabilities, violence and bully prevention, anger management, conflict resolution, ADD/ADHD, social skills, autism spectrum disorder, Asperger's, fetal alcohol, sensory processing, multiple intelligences, and character education.
Jay Herzmark
Jay worked for 22 years at a large, increasingly expensive, state university in Seattle where he was a company safety guy. In a previous life he worked as an RN while attending graduate school in New York City, where he claims to have saved Cher's life. He has been an active member of at least six unions and has ridden his bike over 40,000 miles just to go to work.
Dr. Chuck Lambert
Chuck is professor and chair of the Department of Special Education & Education Leadership at Western Washington University. His research interests include the effects of teacher presentations styles on academic and social behavior, behavior disorders with urban youth, and applied behavior analysis. Previously, Chuck was a paraprofessional, teacher, and assistant principal in Washington State and California.  Chuck is a past president of United Faculty of Western Washington and serves as Vice President for 4-Year Higher Ed for AFT – Washington.
Dr. Aaron Perzigian
Aaron is an associate professor of special education at Western Washington University. He teaches courses on cultural competence in K-12 classrooms and methods of instruction for students with disabilities. He directs the Woodring Inclusive Education Teacher Scholars program (WIETS), which is a grant funded pathway to dual teaching endorsements for Kent and Highline school district employees. His research focuses on alternative education and social-emotional learning. Prior to academia, Aaron was an English teacher and special education teacher in residential treatment centers in Milwaukee and Madison, Wisconsin. Aaron is the department steward for United Faculty of Western Washington.