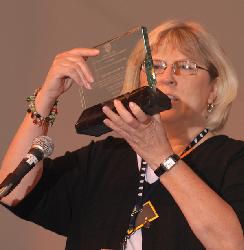 Our state was recognized by AFT at its 80th annual convention in Chicago this July for our leadership on the Faculty and College Excellence (FACE) Campaign. The AFT awarded its 2008 Louis Stollar Award for Advancing the Rights of Contingent Faculty to AFT Washington for our legislative advocacy, which resulted in legislative action providing nearly $4 million for part-time faculty equity and an increase in full-time positions in Washington state.
Lou Stollar is the former long-time president of the Union of College Employees, Fashion Institute of Design, a wall-to-wall union that negotiated the first two-year contract in the nation that continues to be a national model.
For more information, contact Sandra Schroeder at 206-242-4777 ext. 15.